Lester in Schwaz 1986
This picture came to me from a friend in Amsterdam. It's from a concert by Lester Bowie's Brass Fantasy at The Heremitage in Schwaz, Austria in 1986. The Heremitage is a tiny restaurant/venue where a lot of artists play because it's in the small Tyrolian town where one of the main European booking agents is located. Incredibly, preposterously intimate venue, and always filled with friends and partisans.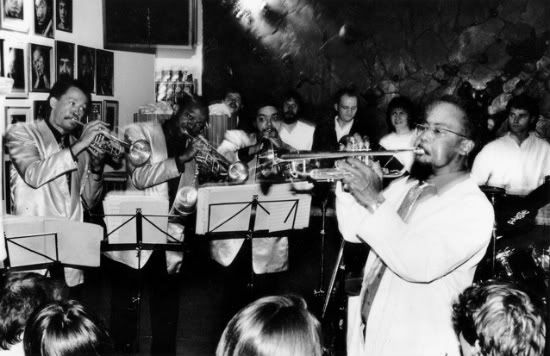 Vincent Chancey (not pictured) was on this tour and here's what he had to say when I sent him this photo.
Dave,
That photo is from Brass Fantasy 1986. The other players are Malachi Thompson, Stanton Davis, and Rasul Siddik. That is the year we took the uniforms to the dry cleaners in Schwaz, and the people at the cleaners said "Hooray, the circus is in town." The band had a number 1 song on the pop radio in Austria, so we did an 18 city tour only in Austria. The song was "No Shit."
Vincent
1 Comment