se dell'eterne idee
A few final remarks about the Banff Workshop. Next year there will be another edition of this event, from May 23 to June 11. If you have even the slightest curiosity about this workshop I urge you to apply and join us. Everyone learns from everyone up there. The more creative minds come together, the more we all expand. Here's the link to the Centre with application process, etc. Banff Centre is also receptive to requests for more specific information, so please write with any questions. All forms of jazz and creative improvised music are welcome.
In the 2010 season there was an in-depth section on collaboratively conducted improvising ensembles. Myra Melford brought a spotlight to that work. Among many other things, Myra led multiple, increasingly detailed sessions on John Zorn's COBRA. About thirty musicians were involved, and they got really proficient at all the twists and turns in the rules for that piece.
In addition, we were fortunate to have the Italian-Canadian composer and improviser Giorgio Magnanensi on campus. In one of his lectures he showed us the score to this piece: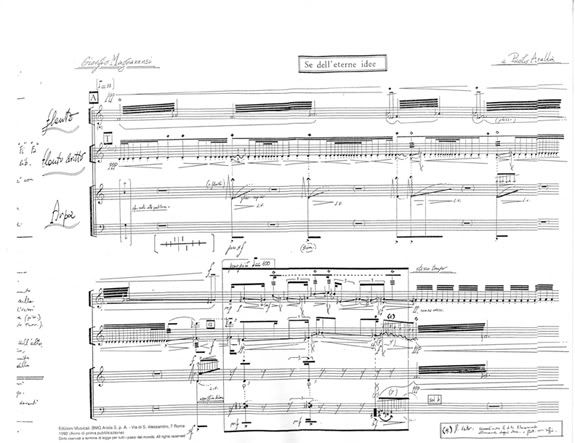 Manuel Zurria flute/piccolo, Antonio Politano recorders, Claudia Antonelli harp
Giorgio works closely with improvising musicians, sometimes recording their improvisations and using their techniques and sonic ideas in constructing the piece. He says the players are often surprised at the complexity and the level of difficulty of what they played. Many initially see the piece and say it simply is not possible. For that reason, Giorgio also builds a set of instructions so the player can find his or her way back into the sound: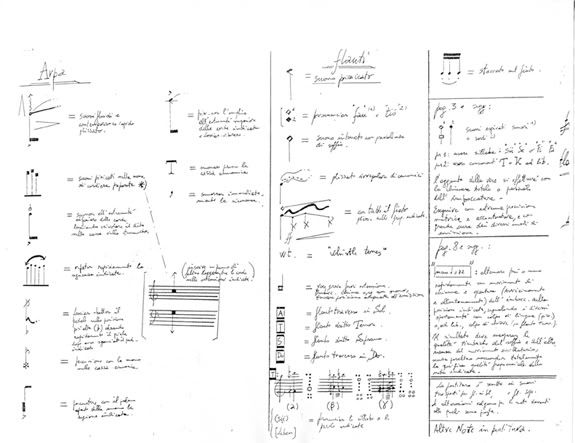 A lot of composers talk about recording, or simply remembering, their own improvisations and then isolating bits to use as a basis for composition. For a classical composer to be so open to the world of improvising performers is rare. Giorgio's desire to deal quite personally with the language of the musician is one of the things that make his works so surprising and constantly inventive. The pieces are clearly his own works in his own language, but they are also a deep tribute to the voices of the players he is writing for.
On the final day of our workshop, Giorgio led 12 musicians in a performance of his works, including conducted improvisations, for the rest of us. Each ensemble then played for the others in turn: Mary Halvorson's group ("Mary Had A Little Band") played her works brilliantly; Ravi Coltrane's group played their own compositions; Drew Gress' ensemble learned several of his pieces; David Gilmore's group nailed a few of his tunes; E.J. Strickland's group played his twisted (in a good way) arrangement of Lazy Bird. I led two groups that week: one group absolutely killed on some Quintet tunes (Invocation, Earmarks, and, yes, War Room). The other group played Brass Ecstasy music: Orujo, Fats, Spirit Moves, and, amazingly, Bowie. We had a lot of fun.
It was an incredible afternoon of music that brought to a close another inspiring year at the Banff Centre. Thanks so much to everyone up there for providing such a wonderful space. Until soon.
No Comments